Road Trip Through Central Oregon
Story and photos by Susan Hegger

Susan worked for 20 years as a newspaper writer and features editor. She is a world traveler and an avid photographer.

Mount Hood, Smith Rock and Crater Lake are high spots of the state's interior.
There are lots of reasons to love the Oregon coast, but the interior of Oregon is also blessed with achingly beautiful spots. No way my two travel buddies and I — with two of us having serious mountain fixations — could visit Oregon without detours to some high spots.
Hiking to Mount Hood's 11,250-foot summit is strictly for serious climbers with ropes, crampons and other gear. My friends Lynn and Debbie and I are, shall we say, recreational hikers in search of the scenic. So, we started our morning on the Mirror Lake Trail in Mount Hood National Forest, an easy 2-mile walk looping around the jewel-like Mirror Lake.
A family ahead of us reached each viewpoint first. Their kids tossed rocks, roiling the placid waters and shattering the famous reflection. (It's called Mirror Lake, after all.) But as the water settled, the mountain's reflection appeared as if by magic.
We decided to continue hiking that afternoon. After a few steps on the challenging Timberline Trail — a roughly 40-mile trek with steep changes in elevation — we took the Trillium Lake loop along the lake's perimeter. Alive with kayakers, anglers and sunbathers, Trillium Lake was the place to be, as Mount Hood towered over us like a serene Buddha.
But the best view of Mount Hood may have come at Lavender Valley farm. The lavender farm is along a 35-mile scenic drive, dubbed the "Fruit Loop," of orchards, produce stands, flower fields and wineries. Or maybe we were just intoxicated by the fragrance of lavender.

Mountain Views, Desert Landscapes
Originally, we had no plans to visit 650-acre Smith Rock State Park in the high desert of central Oregon. But a tourism worker in Portland insisted that we shouldn't travel south from Mount Hood to Crater Lake without stopping at Smith Rock. He pulled up photos of the park — a lunar-like landscape of volcanic rock formed 30 million years ago — and told tales of adventurous rock climbers. That was all it took for Lynn, a onetime rock climber herself, to decide we had to go.
The place we had never heard of turned into a highlight. Two of us took the meandering, 2.2-mile River Trail hugging the Crooked River, while Lynn staked out a place in the shade to watch the climbers. We arrived midmorning when the sunlight intensified the golden hues inside the rock. By early afternoon, as the temperature rose, the climbers were gone.
Crater Lake, more than 5 miles wide, was created 7,700 years ago in an eruption. At 1,943 feet, it is the deepest lake in the country. But its true allure can be summed up in one word: blue — the dazzling color of the water.
We began with the 2-mile Discovery Point Trail in Crater Lake National Park, along the rim of Crater Lake. It took forever, mainly because we were awestruck by the lake's beauty and kept taking photographs.
The Discovery Point Trail does not circle the lake, but the 33-mile Rim Drive does. To be honest, the views at the overlooks can start to look the same, so we got picky. The Watchman Observation Station is a great spot to see Wizard Island, located near the edge of the lake.
Unfortunately, we didn't cruise the lake on a boat, but we did take the short, flat Pinnacles Valley Trail where we marveled over the spires of volcanic pumice that look like steel gray needles.
It's funny. When you think of Oregon, you don't think of volcanoes. But now I'll never forget how they blew us away.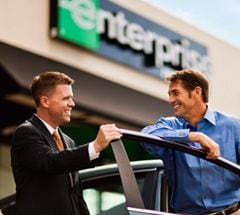 Start A Reservation
Enjoy fast and easy car rental bookings from Enterprise Rent-A-Car at one of our 7,200 branches in cities, airports and neighborhoods near you.
Reserve Now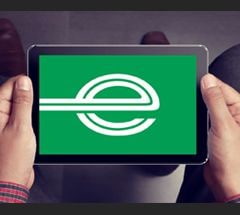 Email Offers
Don't miss an excuse to hit the road: our latest offers delivered to your inbox.
Sign Up