Nostalgic Route 66 Road Trip: St. Louis to Chicago
Story and photos by Joe Rogers
Joe is a freelance travel writer and photographer based in Denver, Colorado.

A weekend road trip through Illinois farmland leads to classic diners, drive-ins and big city splendor.
A cold rain pelted my tired body as I quickly sought refuge from the late morning deluge underneath an awning at Ted Drewes Frozen Custard on St. Louis' South Side. The city was shrouded in heavy, gray clouds that threatened even more rain and chilly weather, but a growing line of people had already formed. I was already shivering in my soaked T-shirt, but Ted Drewes had something called a "concrete" that was apparently a dessert that couldn't be missed.
"One large 'All Shook Up,' concrete please," I ordered once I made it to one of the open windows. The cashier reappeared moments later and tipped my cup upside down then upright before handing it to me. The custard was so thick it didn't budge an inch.
"Enjoy," she said, smiling.
Ted Drewes is a Route 66 staple that has served both locals and travelers from its stand on Chippewa Street since 1941. It and its sister shop on South Grand Boulevard each take their place in Missouri history alongside the famed Gateway Arch and the Old Chain of Rocks Bridge. On this bridge, Route 66, otherwise known as the "Mother Road," originally crossed the Mississippi River between Missouri and Illinois.
The Last Leg
Over the last two weeks, I had driven historic Route 66 after starting my 2,448-mile journey at California's Santa Monica Pier. In that time the landscape changed as if it were seasons on a calendar. I found night stays in landmark motels nostalgically fun, giant portions of classic diner food worth every belly-busting bite, and conversations over good coffee about life and the open road inspirational. Small, bypassed communities and their family-run businesses fought to stay relevant. Some had succumbed, their decrepit remains lying dormant along the roadside. Many were seeing a gradual resurgence. That's the story of Route 66 — a two-lane highway fluctuating between good times and bad, hope and loss, opportunity and hardship.
I stuck around Ted Drewes for an hour, long enough to watch a few classic hot rods rumble into the parking lot. The rain quickly beaded up on their shiny, freshly waxed exteriors. My journey north beckoned, however. A five hour direct drive separated me from Chicago; but I planned to take my time. Noteworthy stops were plentiful.
Mount Olive, Illinois, is a quaint farm town with quiet streets, red-rock buildings and a tasty doughnut shop called B & K Bakery on the main drag. I stopped at Soulsby's Service Station, a restored Shell Station built by Henry Soulsby in 1926 on the corner of First Street, and stood at a window alone in silence for quite some time, watching cars cruise by just as they would have back in the 1930s.
A Classic Café
I drove on, passing fields of wheat, soybeans and corn, only to pull over less than 15 minutes later in Litchfield when the Ariston Cafe came into view. The low light and glow of red neon over the old wooden counter hinted at the café's stature as one of the oldest continually operated restaurants still in existence on the Mother Road. I took a seat on a wobbly swivel chair at the counter for a burger and fries. If I closed my eyes and listened hard enough, I thought I could hear the conversations of those who had come before me.
"We've lived on Route 66, worked on Route 66, but we never really thought about it," Will Law told me. Law was one of four new owners who took over the café in July 2018. "The highway was just a crumbling road that needed to be repaired. Then we took this place over, and it was surprising how much the road meant to people. Route 66 is such a small, tightknit community, and it's just amazing to be a part of it and to see so many people come through the cafe."
Journey's End
The rest of the drive through Illinois rolled out in much the same way: vast expanses of farmland, historical relics and everyday life along the highway, with added remnants of once busy fill-up stations, pockets of small communities and roadside quirks. Diners were everywhere, beckoning me for one more piece of pie, tasty burger or the original deep-fried corn dog at the Cozy Dog Drive In. Abraham Lincoln's legacy flourished in Springfield, home to a well-manicured historic district and the 12-room house where he lived with his wife, Mary, for 17 years. I bought maple syrup from a long-enduring family plot of land in Funk's Grove, found the Bunyan Giant in Atlanta and the Gemini Giant in Wilmington. I also took the 90-degree turn of "Dead Man's Curve" in Towanda. Through it all, I backtracked only once, paying $5 for a movie in Litchfield at the Skyview Drive-In.
"In the summertime we have this place packed," Mike Pastrovich, co-owner of the family business said as we stood outside the snack bar. Parents walked by, children following close behind with their hands full of popcorn and candy. "Especially if the weather is good. "I sat down with my own buttery popcorn in hand, reminiscing about my childhood while families cuddled on tailgates in front of me to watch the big glowing screen.
My long journey down the "Mother Road" ended on a quiet Sunday morning in the shadow of Chicago's skyscrapers. Unlike prior days, I left my car behind to take it all in as I walked the last few blocks along East Jackson Street. Doughnut holes were passed out to waiting patrons at Lou Mitchell's, and the Willis Tower loomed high above boats lazily floating down murky canals. Fog rolled in, and a steady rain began to fall. I walked slower. With each step I took, every mile, sunset, roadside stop and bright smile melded into one harmonious memory. My trip culminated at a lone, battered brown sign with the word "end" on top. I had finally made it.
 
On the "Mother Road," you'll find welcoming smiles and the guardian angel of the trail.
Choosing the "old road" opens up a world of appealing characters and beauty along the "Main Street of America."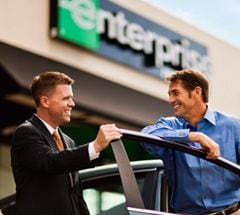 Start A Reservation
Enjoy fast and easy car rental bookings from Enterprise Rent-A-Car at one of our 7,200 branches in cities, airports and neighborhoods near you.
Reserve Now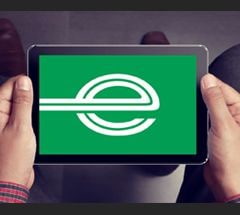 Email Offers
Don't miss an excuse to hit the road: our latest offers delivered to your inbox.
Sign Up