Utah's Scenic Byway 12 is a Masterpiece
Story and photos by Charles Williams

Charles is the editor for Pursuits with Enterprise. Email the author.
The All-American road traverses slickrock and features a petrified forest, a beautiful waterfall and gourmet dining.

When painting, each brushstroke colors the canvas until a complete picture emerges. Such is the case driving Utah's Scenic Byway 12. No single stop, no single sight, defines the lasting image of this stunning All-American Road. But the combination of experiences is a work of art.

And like some of Van Gogh's best paintings — "The Starry Night," "The Night Cafe" and "Irises" — opposite colors on the color wheel cause visual "pop" among the natural scenery along the road. Red rocks contrast with green pine trees, yellow sunsets punctuate darkening purple nights and blue skies highlight orange hoodoos.

The panoramic road winds 124 miles through canyons, slickrock, plateaus and a mountain. While 150 roads are designated as Scenic Byways by the U.S. Secretary of Transportation, only 42, including Scenic Byway 12, are classified as All-American Roads. They are the best of the best drives in America.
A 'Monumental' Journey
The road goes through or near two national parks, three state parks, a national recreation area, a national monument and a national forest. Along the way, you'll pass through small towns offering food, gas and character — Bryce Canyon City, Tropic, Cannonville, Henrieville, Escalante, Boulder and Torrey.
How you approach the drive depends on time and interests. Much of the road goes through Grand Staircase-Escalante National Monument, the largest national monument in the United States. I chose to dabble in food, culture and hiking for two days, but it wasn't nearly long enough.
Moving from west to east, Red Canyon explodes with vibrant shades of red and orange rocks. Their color is due to a combination of iron and oxygen, along with exposure to nature's elements. It's as if a big red movie curtain opens to expose the features beyond.
Nearby, Bryce Canyon National Park has an awe-inspiring amphitheater that elicits gasps upon first sight. Walk the popular 1.3-mile Navajo Loop Trail, which features limestone hoodoos and a slot canyon lined with tall Douglas Fir trees. Before moving on, eat or stay at the lodge designed by Gilbert Stanley Underwood, who also designed the lodges at Zion and Yosemite National Parks.
In 1948, a National Geographic Society expedition named Kodachrome Basin State Park in honor of the popular color film. More than 60 sand pipes — similar to stone chimneys and ranging in height from 6 to 170 feet — are in the park. Photographers will appreciate this peaceful spot that has far fewer crowds than Bryce Canyon.
Kids will enjoy Escalante Petrified Forest State Park, one of Utah's best places to see petrified wood. Allow two hours to stroll through the trails and admire nature's ability to preserve trees for millions of years.
Don't Hurry on 'The Hogback'
Continuing eastward, the Kiva Koffeehouse is an unexpected treasure started by Renaissance man Bradshaw Bowman. Built from Ponderosa Pine, Spruce and sandstone, the building offers a laid-back atmosphere to enjoy food and stunning views. Order homemade soups, sandwiches or pastries, or keep it simple like I did, and order freshly baked cookies with a cafe latte.
Only 2.5 miles farther is the trailhead for Lower Calf Creek Falls, one of the prettiest destinations along the route. The 6-mile round-trip hike leads to a 126-foot waterfall where trekkers rest before returning. Along the way, a keen eye can spot petroglyphs on the faraway rocks. Pack a lunch and plan to spend at least half a day on this adventure.
The stretch of road from Calf Creek Recreation Area to the town of Boulder is known as "The Hogback." It's a slow, adrenaline-fueled ride along a ribbon of road with extreme drop-offs on both sides. This is one of the most scenic stretches of Byway 12 and one where you should heed the speed limits.
The Boulder Mountain Lodge is a great place to spend the night. The lodge has a communal feel with a hot tub, fire pit and common areas to mingle. Next door, settle in for a gourmet meal at the award-winning Hell's Backbone Grill. The menu changes often, but the "Spicy Cowgal Chipotle Meat Loaf" has been a constant dinner option. For breakfast, try the delicious "Super Spicy Chile-Migas." Just down the road, the Burr Trail Grill offers juicy burgers in a casual setting.
Boulder Mountain: A Majestic Overlook

History buffs should visit Anasazi State Park Museum, also in Boulder. The museum sheds light on Ancestral Puebloans and has a partially excavated and reconstructed village.
The last leg of the journey climbs Boulder Mountain, more than 9,000 feet high. Stop at the Homestead Overlook at sunrise for stunning views of Grand Staircase-Escalante National Monument. Wildlife roams freely here — deer, elk, mountain lions — but the biggest concern might be cows, which often stand in the road.
Scenic Byway 12 officially ends in Torrey, but Capitol Reef National Park is only minutes away and is worth a visit. Take the 8-mile scenic drive along the Waterpocket Fold, see Fremont Indian petroglyphs, hike to Hickman Arch or pick seasonal fruit in the open orchards — cherries, apricots, peaches, pears and apples. Take a break at the Gifford Homestead in the heart of the Fruita valley where homemade pies are for sale.
Great artists don't explain the meaning of their work. Instead, they leave interpretation to the viewer. Scenic Byway 12 will mean something different to everyone.
Related
Read more stories about Utah.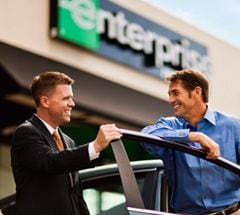 Start A Reservation
Enjoy fast and easy car rental bookings from Enterprise Rent-A-Car at one of our 7,200 branches in cities, airports and neighborhoods near you.
Reserve Now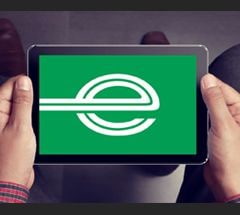 Email Offers
Don't miss an excuse to hit the road: our latest offers delivered to your inbox.
Sign Up