Road Trip to Cadillac Ranch
What is Cadillac Ranch? We're glad you asked! Located on historic Route 66 just west of Amarillo, Texas is Cadillac Ranch, a funky place surrounded by Americana culture. This nearly 50-year-old art installation is free to visit and serves as an awe-inspiring roadside attraction. A shrine to America's love for the open road, Cadillac Ranch features 10 half-buried Cadillacs covered in graffiti (and makes for a fun photo op!). If you're thinking about heading out to this pop-culture destination, check out these kitschy pit-stops to make along the way:
Best Car for this Road Trip: Convertible
Get going in a car that's perfect for your road trip through Texas by renting at one of our many neighborhood locations around the Amarillo or Canyon areas. Flying in? No problem! Hit the pavement as soon as possible by picking up your rental at the airport.
1. The Muffler Man

While visiting Cadillac Ranch in Texas, you can't miss this larger-than-life cowboy. Located just down the road outside the Cadillac Ranch RV Park (pictured above), the brightly-painted figure stands at 22 feet tall and waves at passersby. The giant cowboy guards three vintage Cadillacs with mannequins of Willie Nelson, John Wayne and Elvis Presley in the driver seats. The statue provides a quirky photo opportunity and sits outside a cute little gift shop where visitors can find a variety of Cadillac Ranch history souvenirs. Whether it's just a prime example of how everything is bigger in Texas or just a friendly nod to America's groundwork, this roadside attraction is a great pit stop along your drive.

Tip: Visit early in the morning to avoid a crowd
Cost: Free to visit

2. Bill's Backyard Classics

This classic car museum is a Cadillac Ranch Amarillo must-see! Featuring beautifully-restored makes and models dating back to the early 1920s, visitors can get up close and personal with some of America's motor history. Packed in bumper-to-bumper, the collection is displayed in two warehouses. A guide will walk you through and provide information about each car and the museum's evolution. From Oldsmobile and Pontiac to Lincoln and Cadillac, the craftsmanship is truly a work of art. If you love cars, you absolutely need to make this part of your itinerary!

Tip: Download the Amarillo Panhandle Pass and save $2/adult admission
Cost: Cash only; $10/adult; Free/ages 12 and under

3. Amarillo Botanical Gardens

Whether you're just passing through or staying at one of the hotels near Cadillac Ranch, this Texas oasis is a destination worthy of your time. Inspired by a women-led garden club back in 1929, the expertly planned Amarillo Botanical Gardens offer peace and tranquility spanning 4.4 acres of plants, trees and colorful flowers. Featuring Japanese gardens, a palm tree-filled arboretum, a greenhouse and an area dedicated to succulents, the magical displays are full of creativity and beauty. A great place to get in touch with nature, you'll be amazed by the variety of plants that can thrive in the Texas Panhandle.

Tip: Make sure to see the succulent kaleidoscope located outside of the conservatory
Cost: Suggested admission of $5; Donations are appreciated

4. Palo Duro Canyon State Park

Home to the second-largest canyon in the country, Palo Duro Canyon State Park is a real jewel for Texas. Located about a half hour south of Amarillo, the park features rugged beauty, epic wildlife and a deep, colorful history. With more than 30 miles to explore, visitors can enjoy hiking, biking and geocaching among amazing rock formations and breathtaking overlooks. Referred to as one of Texas' most beautiful places, the grounds include lots of trail options (from easy to pro), Palo Duro Canyon cabins and a gift shop that offers items made by Indian tribes across the USA. The Visitor Center located atop the canyon features an impressive display of fossils and archaeological information about the terrain. If you're pressed for time, take a drive along the park's scenic loop. In just about an hour, you can enjoy the breeze in your hair while you descend into the canyon and take in striking sights along the way.

Tip: If you're planning to hike around the Palo Duro Canyon, bring lots of water to avoid dehydration – and don't forget your sunscreen
Cost: Daily entrance fee is $8/adults & free for ages 12 and under
Dog Friendly: Leashed dogs are permitted in the park 

5. Route 66 Historic District

Feel the nostalgia as you drive this mile-long stretch of road. The US Route 66 Sixth Street Historic District is now home to restaurants, cafés, shops and colorful wall murals. The street is lined with locally-owned art galleries and eclectic antique stores. A fun place to walk, the collections of odds-and-ends are sure to pique your interest as bits of sentimental Route 66 memorabilia transport you back in time.

Tip: Bartering is a common practice at most of the antique stores
Cost: Varies
Dog Friendly: Most shops in the area are dog friendly
Cadillac Ranch FAQs
Is Cadillac Ranch worth visiting?
If you're traveling along Route 66 or I-40, making a quick stop at Cadillac Ranch in Texas is definitely recommended. This classic art installation represents the country's history through displaying an iconic American symbol – the Cadillac.
Can you spray paint cars at Cadillac Ranch?
Cadillac Ranch is known for its colorful graffiti, which is constantly changing as visitors come and go. What's special about this piece of public art is that visitors are allowed to legally spray paint the half-buried Cadillacs.
How much does it cost to go to Cadillac Ranch?
Always free to visitors, Cadillac Ranch hours are open 24/7. There are no lines or ticket booths, so you can just walk up, make your mark with graffiti and snap pics to your heart's content.
What's the best time of year to visit Amarillo, Texas?
For optimal weather, we recommend visiting Amarillo during the spring season. Although the area enjoys roughly 3,300 hours of annual sunshine, late spring is the rainy season. Plan visiting during the fall if you'd prefer to skip the crowds and save money, as those months are considered to be the off-season.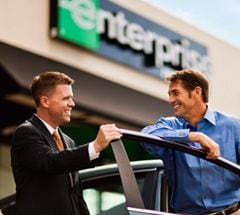 Start A Reservation
Enjoy fast and easy car rental bookings from Enterprise Rent-A-Car at one of our 7,200 branches in cities, airports and neighborhoods near you.
Reserve Now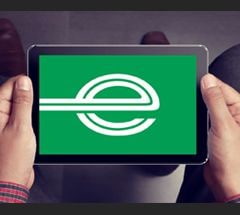 Email Offers
Don't miss an excuse to hit the road: our latest offers delivered to your inbox.
Sign Up