Palo Duro lives in the Grand Canyon's shadow
Story and photos by Charles Williams

Charles is the editor for Pursuits with Enterprise. Email the author.
The second largest canyon in the United States is nicknamed "The Grand Canyon of Texas."
On the High Plains of the Texas Panhandle, I came to terms with my upbringing.
From dance halls in Dripping Springs to high-rises in Houston, we Texans proudly boast about our people and places. After all, everything's bigger in the Lone Star State.
Well, almost.
Like a younger sibling, Palo Duro Canyon on the outskirts of Amarillo, Texas, is overshadowed by its big brother — the Grand Canyon. But at 120 miles long, 20 miles wide and 800 feet deep, America's second-largest canyon deserves some "attaboys," too.

Palo Duro features incredible scenery, a BYOH (bring your own horse) campground, three rim cabins with priceless views and a rip-roaring musical staged on the canyon floor.
After recently hiking to the bottom of the Grand Canyon, I was curious to visit this relatively unknown marvel in my home state to see how it compared.
The Grand Canyon is 277 miles long, 18 miles wide and 6,000 feet deep — much longer and deeper than Palo Duro. But there's a price to pay for the fame of being the King of Canyons. The Grand Canyon has over 6 million visitors a year; Palo Duro has about 300,000.
In Texas, there's an old saying, "Give me the bacon without the sizzle." If you're looking for steep walls, dramatic light and changing colors, both places deliver. If you're also seeking solitude, Palo Duro should be on your travel list.
Palo Duro means "hard wood" in Spanish, a name given by early Spanish explorers that refers to the Rocky Mountain junipers found throughout the canyon.
In 1874 during the Red River War, the U.S. Cavalry surprised a camp of Comanches, Kiowas and Cheyennes in a pivotal battle in the canyon. Shortly afterward, cattlemen Charles Goodnight and John Adair raised large herds of cattle, including Longhorns, on the land.
The state of Texas bought the property in 1933, and the Civilian Conservation Corps began building cabins and roads. Palo Duro Canyon State Park opened in 1934.

While it's challenging to get a reservation on the rim of the Grand Canyon, it's more difficult at Palo Duro Canyon, primarily because there are only three rim cabins — the Sorenson, the Goodnight and the Lighthouse. I was lucky to book the Lighthouse cabin 10 months in advance.
But partner, the view is worth the wait.
The three cabin porches are where memories are made. A glass of wine or sweet tea is a fitting way to bid adios to the light and welcome thousands of shining stars. It's hard not to be inspired by the landscape as it transforms from daytime to nighttime.
Famed artist Georgia O'Keeffe certainly was moved by what she saw. She lived nearby in Canyon, Texas, from 1916-18 and painted many watercolors of Palo Duro. She called it "a burning, seething cauldron, filled with dramatic light and color."
Unlike the Grand Canyon, it's easy to drive to the bottom of Palo Duro, which features hiking trails, horseback riding stables, campsites, an outdoor amphitheater and a Trading Post that serves "world famous" hamburgers.
Explore some of the park's 16 trails, either on foot, on a bike or on horseback. The most popular hike is the Lighthouse Trail, which is 5.4 miles round trip and leads to the iconic Lighthouse rock formation. The end of the trail is the most difficult part and requires hikers to scramble up a steep hill.
While you might expect to find many things on the bottom of a canyon, a high-kicking, boot-stomping musical likely isn't one of them. But "Texas," by Pulitzer Prize-winning playwright Paul Eliot Green, is performed Tuesday through Sunday during the summer at the Pioneer Amphitheater.
The family-friendly show first opened at the venue in 1966 and now features more than 60 singers, actors and dancers. The show's real star, though, is the canyon itself, which is used as a unique, unforgettable backdrop. As the musical opens, a lone horseman proudly waves a giant Texas flag as he gallops 600 feet above along a cliff. If you didn't feel Texas pride when you arrived, you will by the time the show is over.
Palo Duro Canyon doesn't have fancy lodges or dining options like the Grand Canyon, and we Texans aren't too proud to tip our hats to our bigger, gussied-up kin in Arizona.
Contrary to what I believed as a child, I now know that everything isn't bigger in Texas. But in the case of canyons and what they offer, Palo Duro is close enough.

America's Second Largest Canyon
Watch the sun set on the Lighthouse Cabin, one of three cabins on the canyon's rim.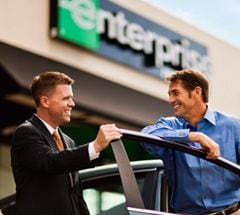 Start A Reservation
Enjoy fast and easy car rental bookings from Enterprise Rent-A-Car at one of our 7,200 branches in cities, airports and neighborhoods near you.
Reserve Now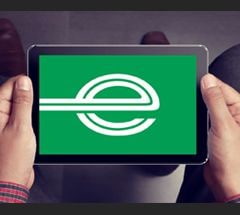 Email Offers
Don't miss an excuse to hit the road: our latest offers delivered to your inbox.
Sign Up