Texas Bluebonnets in Bloom
Story and photos by Charles Williams

Charles is the editor for Pursuits with Enterprise. Email the author.
Willow City Loop ranks high as a bucket-list drive for wildflower lovers.

Like a prized truffle-hunting dog, my tour guide, Matt, sniffs out the best spots to photograph Texas bluebonnets. The task isn't easy. Depending on the weather, bluebonnets can pop up anywhere, anytime in spring. It's like playing a game of Whac-A-Mole with the official state flower.
During spring, Matt spends 20 hours a week combing social media for recent bluebonnet posts, and twice a day he takes people on photography tours in the Hill Country, an especially scenic region in central Texas. If you're not familiar with the area, the tours are a good way to find hidden spots that include old barns, boarded-up taverns and abandoned railroad trestles, all nestled in fields of beautiful bluebonnets.
Of course, bluebonnets aren't the only wildflower in Texas. Indian paintbrushes, prairie verbena, pink evening primroses and many more thrive naturally — 2,700 kinds of wildflowers in all. But bluebonnets hold a special place in Texans' hearts. After declaring it the state flower in 1901, the legislature squabbled for 70 more years before deciding to include all five species.
Posing with bluebonnets is a Texas tradition. Families and their pets are often seen taking portraits in fields of bluebonnets. The blue burst occurs from March through May, often peaking in April.
First Lady Inspired Plantings

Lady Bird Johnson, wife of President Lyndon Baines Johnson, deserves much of the credit for the colorful explosion each spring. As first lady, she championed planting wildflowers along roadsides. She believed that beautifying the countryside was more than a cosmetic gesture. "Where flowers bloom, so does hope," she said.
I hoped to find more scenes like the ones I discovered with Matt, so after the tour, I set out on my own.
My first stop was the Blue Bonnet Cafe in Marble Falls. Since 1929, the servers here have been slinging pie with meringue piled so high it barely fits through the door.
"Pie happy hour" had the place buzzing, and customers were stopping by in droves. After ordering a slice of pecan pie and coffee, I worked up the nerve to ask my swamped waitress where to find bluebonnets. "Honey, I don't know. I come to work in the dark and leave in the dark," she said. Point taken.
I called the Chamber of Commerce in Llano, stopped by the Lady Bird Johnson Wildflower Center in Austin, and cornered a less busy waitress at the Peach Tree Tea Room in Fredericksburg, always asking the same question — where's the best place to see bluebonnets? The same answer was given over and over: Willow City Loop.
Willow City Loop is a 13-mile scenic drive located between Fredericksburg and Llano, just off Highway 16. The drive traverses the rugged Texas landscape and passes over hills and through meadows bursting with wildflowers, particularly bluebonnets. In spring, the loop ranks high as a bucket-list drive for wildflower lovers.
Along the drive, you'll see fence posts adorned with cowboy boots, stately ranches and a Longhorn or two. Bluebonnets are blooming everywhere, and when they line both sides of the road, it's a sight to behold.
While wildflowers also bloom along the freeways, this charming country road — lined with windmills, wooden fences and grazing cattle — adds a down-home touch, and it's fairly easy to pull over and admire the flowers. Just be mindful that much of the land is private property and boundaries should be respected.

Exploring Beyond the Loop
Willow City Loop is the most popular drive in the area, but the joy of discovery awaits anyone willing to take backroads in the Hill Country. As I drove aimlessly, my mind wandered to the days of the old Sunday drive, when plodding along at a leisurely pace was more important than the actual destination.
On my way back to Austin, I stopped at Wildseed Farms in Fredericksburg. Their fields of bluebonnets hadn't peaked yet (they grow faster along roadsides due to heat). I picked up a quarter pound of bluebonnet seeds, determined to do my part to beautify America.
My last stop was the Lyndon B. Johnson National Historical Park in Stonewall, the final resting place of Lady Bird Johnson. Throughout my travels in search of bluebonnets, I recalled her steadfast determination to beautify our roadsides. Lady Bird's legacy lives on among those who drive and marvel at wildflowers each spring. Fittingly, her headstone displays a carved Texas bluebell — her favorite flower — and the inscription reads: "A gentle heroine to nature and mankind."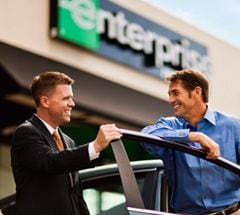 Start A Reservation
Enjoy fast and easy car rental bookings from Enterprise Rent-A-Car at one of our 7,200 branches in cities, airports and neighborhoods near you.
Reserve Now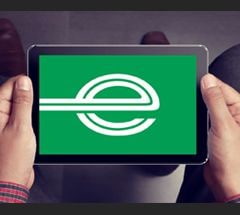 Email Offers
Don't miss an excuse to hit the road: our latest offers delivered to your inbox.
Sign Up