Weekend Getaway to Camden, Maine
Story and photos by Michael Ciaglo

Michael is a freelance photographer based in Denver, Colorado. See more of his work on his website.

The coastal town features boat trips, hiking trails and fresh seafood.
Curious to see if the town of Camden, Maine, lives up to its hype as the "Jewel of the Maine Coast," my girlfriend, Sarah, and I traveled there on a romantic autumn road trip. After our first glance at the pearl-white Victorian homes, ruby-red trees and sapphire-blue ocean, we predicted that the town of about 3,400 would be everything it promised and more.

We were right. Nestled on the idyllic Penobscot Bay, Camden perfectly embodies the quiet, seaside town we'd been dreaming about. Just over three hours from Boston, Camden is a quick escape from the big city. From New York City, it's a day's drive — about seven hours. If your starting point is the Enterprise car rental counter at Portland International Jetport, you can be in Camden in just over 90 minutes.

After getting settled at the cozy Blue Harbor House Inn, Sarah and I headed to the water to watch the sunset. Few people were around as the purple evening light slowly faded and the beacon of the nearby Curtis Island Lighthouse grew brighter and brighter. We walked hand-in-hand through downtown before stopping for dinner at the Sea Dog Brewing Company, a harborside restaurant. Our drinks were adorned with floating wild blueberries, and the tamari-glazed Brussels sprouts were especially tangy and refreshing.

A Rewarding Mountain Hike
The next morning, we were eager for adventure. With our bellies full of homemade pancakes and warm Maine apple cider, we set off to climb the 780-foot-tall Mount Battie, located in Camden Hills State Park. Though our hosts had warned us about "scrambling" and "bouldering" sections, I wasn't concerned. As a native Coloradan, it takes a lot for me to consider any hiking trail difficult, especially one that is only about a mile long.

However, Sarah and I quickly found ourselves humbled as we climbed on all fours up the mountain's dew-covered rocks. Our reward waited at the summit, where the panoramic view of Penobscot Bay and Camden blanketed in fall foliage took away what was left of our breath.

Hungry after our hike, we headed for the famed Graffam Brothers Seafood Market in Rockport, just a 5-minute drive. Since 1946, this market has boasted that their seafood is "the freshest you can get without getting wet." There, we perused jars of caviar, containers of lobster mac and cheese and a seafood counter brimming with fresh fish fillets and Maine scallops.

On the wall behind the counter hangs a plaque with an enormous mounted lobster. Caught off the coast of Rockport in the mid '60s, the lobster measured about 30 inches long and weighed 25 pounds. (A 44-pounder is said to be the biggest ever caught.) "I found the plaque in the early 2000s in an old office in the basement," said owner Leni Gronros. "It had been damaged during a fire in the '90s, and I restored it and hung it up."

Fall Color and Clear Sailing
With our flakey haddock sandwiches in hand, we drove down the nearby Beauchamp Point Road to find a picnic spot on the coast. Sarah audibly gasped as we crested a hill where golden leaves falling from trees had covered the earth in a brilliant yellow carpet. We lingered, in absolute awe.

Since its incorporation in the late 18th century, Camden has been a haven for sailors. Eager to honor that history with a trip on the water, we booked a two-hour cruise on the Schooner Surprise, a magnificent 45-foot cruising yacht that is over a century old.

Once aboard, we made our way to the front of the yacht, which cut handily through the whitecaps. We admired mansions and lighthouses along the shore, and we were lucky to see one bald eagle perched on an island's lone pine tree and another soaring overhead. In the distance, colorful lobster pot buoys sparkled atop the blue-grey water.

Sarah has taken me to enough yoga classes over the years that I recognize when your mind is clear and you're taking in everything around you. Standing on the bow of the Surprise, inhaling the cool sea air and holding Sarah, all my senses were flooded with that profound serenity.

As the sailboat returned to the harbor under a pink pastel sky, Sarah and I agreed that anyone traveling to Maine — a state that brands itself "Vacationland" — will want to put Camden on their itinerary.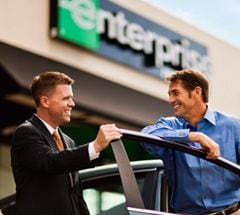 Start A Reservation
Enjoy fast and easy car rental bookings from Enterprise Rent-A-Car at one of our 7,200 branches in cities, airports and neighborhoods near you.
Reserve Now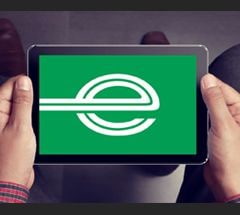 Email Offers
Don't miss an excuse to hit the road: our latest offers delivered to your inbox.
Sign Up