Florida's Space Coast Launches Memories
Story and photos by Charles Williams

Charles is the editor for Pursuits with Enterprise. Email the author.
A trip to the Kennedy Space Center embraces the past and celebrates the future.
In June 2007, the space shuttle Atlantis rose through clouds of steam and fire, slowly rolling and rapidly accelerating toward space. I held my 6-year-old son in my arms and watched from the back of a cruise ship that had just left Port Canaveral, Florida.
As the shuttle disappeared through the clouds, I couldn't help but feel personal pride. I remembered a famous story about how President John F. Kennedy visited NASA's Launch Operations Center in 1962 and encountered a janitor. Kennedy said, "Hi, I'm Jack Kennedy. What are you doing?" The man responded, "Mr. President, I'm helping put a man on the moon."
I have no idea if that story is true, but the point remains: We are all part of something bigger than ourselves.
I worked for 16 years at the Johnson Space Center (JSC) in Houston, starting as a 16-year-old dishwasher in the visitors cafeteria and eventually working my way into the Mission Control building. My initial job was menial, but it's hard not to be inspired when you drive past a Saturn V rocket — the same kind that took astronauts to the moon — on your way to work every day.
Working at JSC felt like a calling, an opportunity to work for the greater good of humanity. While there, I met astronauts who jetted off into space, shared the elation of the first shuttle launch and felt the pain of the Challenger explosion — indelible memories still.
When I left JSC in 1995 to pursue new adventures, my one regret was that I never made it to the Kennedy Space Center (KSC), the epicenter for manned Apollo and shuttle launches. Because 2019 is the 50th anniversary of the lunar landing, I decided it was time to plan a trip to Florida's Space Coast to reconnect with my earlier passion.

I flew into Orlando and rented a car for the 40-mile drive east to the Atlantic Ocean. Florida's Space Coast has 72 miles of shoreline and dozens of tourist destinations, but the most buzzworthy stop is KSC.
KSC is located on 34-mile-long Merritt Island, Florida's largest barrier island. The space center is part of Merritt Island National Wildlife Refuge, which covers about 140,000 acres. Only 5 percent of the refuge is used for NASA's operations.
In the refuge, you'll spot shorebirds, turtles, bald eagles, manatees and, of course, alligators. About 6,000 alligators live around the island. Before shuttle landings, a special crew used to clear any that might be sunning themselves on the runway, which was nicknamed the "gator tanning facility."
Admission to the Kennedy Space Center Visitor Complex includes movies, exhibits, gift shops, restaurants and a "rocket garden" that displays early launch vehicles. Films cover the history of the space program and are shown in both 3-D and IMAX format.
The Visitor Complex has plenty to see, but I'd recommend also taking a special interest tour such as the KSC Explore Tour. This guided tour makes several stops around the NASA complex, including the massive Vehicle Assembly Building (VAB) and famous launch pads.
Apollo/Saturn V rockets and space shuttle stacks were assembled in the VAB. The new Space Launch System — NASA's most powerful rocket ever — also will be assembled here. And to get those huge rockets out, the VAB uses the largest doors in the world, which are 456 feet tall and take 45 minutes to fully open or close. If you're in a hurry, don't be the last one out.
A crawler-transporter then takes the rocket to a launch pad — at a top speed of 1 mile per hour. Two of the most famous pads seen on the tour are 39A and 39B, used for all Apollo and shuttle launches. SpaceX, a commercial rocket manufacturer, now uses pad 39A to launch its Falcon 9 and Falcon Heavy launch vehicles.
The tour drops off visitors at the Apollo/Saturn V Center, where they can dine at the Moon Rock Cafe. A few feet away, you can touch an actual moon rock gathered 238,000 miles away. The Apollo 14 crew capsule is on display along with Commander Alan Shepard's space suit, which still is covered in moon dust.

Schoolchildren and retirees seemed equally thrilled at KSC. Whether people relate to the Mercury 7 astronauts, the space shuttle or the newest commercial ventures, they have a strong desire to explore the galaxy.
I spent eight hours at the space center and still didn't see everything. I was like a nerdy kid at a science fair, transported back to the days of black-framed glasses, pocket protectors and slide rules. I loved every minute of it.
One of my favorite moments happened while watching a movie about the origins of the space shuttle program. The screen suddenly became transparent and then opened to reveal a shuttle.
It was Atlantis, the same orbiter my son and I watched hurl toward the heavens. Four years after our bonding moment, the space shuttle program ended. I felt a kinship with the spacecraft that hung silently in the museum — the torch has been passed to a newer, younger generation of people and machines.
As I gazed upon Atlantis, I reflected on my own brush with space and the enduring pride of being part of something bigger.
Two words came to mind — mission accomplished.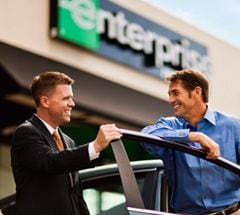 Start A Reservation
Enjoy fast and easy car rental bookings from Enterprise Rent-A-Car at one of our 7,200 branches in cities, airports and neighborhoods near you.
Reserve Now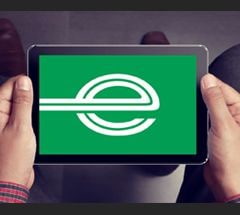 Email Offers
Don't miss an excuse to hit the road: our latest offers delivered to your inbox.
Sign Up