Visiting Glacier National Park in Winter
Story and photos by Nick Cote

Nick is a freelance travel writer and photographer based in Colorado. See more of his work on his website.
Montana's gem offers different rewards during the season of stillness.
Regardless of how you feel about sharing Old Faithful with thousands of other spectators on a summer day, we all can agree that "America's best idea" has been a smashing success. Anyone who has visited a national park recently — more than 327,500,000 of us did in 2019 — knows that the parks are more popular than ever.
One surefire way to avoid crowds is to visit the parks in winter. I do, and I recommend it.
Glacier National Park consists of 1,583 square miles of wilderness in Montana's Rocky Mountains. From June through August, the park welcomes more than 2 million visitors, but from December through February, that number dips to around 40,000, with the smallest crowds in February. I've long enjoyed visiting other national parks during the offseason, but a recent trip to Glacier was my first time experiencing it in winter.
Determined to spend time there in relative solitude, I rent a Subaru Outback to make the 140-mile drive from Missoula on Highways 93 and 35, passing through the scenic Mission Valley. On this unseasonably warm February day, Glacier National Park greets me with an unusual sight for this time of year: a mostly clear sky. From the west entrance, I head for Lake McDonald. Stretching 10 miles long and nearly 500 feet deep, it's the largest lake in the park.
Surprisingly, the lake isn't frozen, and the water magnifies the magenta and blue-green rocks under the crystal-clear surface. Across Lake McDonald, the clouds part to reveal the peaks in the Lewis Range, covered in a blanket of fresh snow. Though Glacier is the country's 10th most-visited national park, only four people share this postcard-worthy spot on a dock with me. They take some selfies before moving on, leaving me alone at one of the park's most popular stops.
A Solo Hike Along a Storied Path
The historic Lake McDonald Lodge, 11 miles into the park, is the end of the line when it comes to driving here in the winter. But if you bring cross-country skis or snowshoes — or, conditions permitting, just a pair of sturdy boots — you can tread along the storied Going-to-the-Sun Road for as long as you choose.
For me, this is where the sense of solitude really begins to set in. The road eventually gains elevation, but it's relatively flat for miles, making for an easygoing excursion through a tunnel of cedar and tamarack trees. No traffic or slow-moving RVs are in sight. A family of white-tailed deer cautiously eyes me from a distance, then disappears into the thick forest. I hear just my skis gliding along the snow-packed road and, in the background, the gurgling of McDonald Creek.
The road parallels the creek, crossing its path occasionally. About 2 miles from the lodge, I come to a footbridge. Pockets of deep turquoise water in the creek's wide cascade swirl beneath me, the sort of color that wouldn't be out of place off the coast of a tropical island. Miles upstream, slow-moving glaciers are grinding the rock into a fine sediment called glacial flour, which is responsible for producing the blue color when light is refracted from the minerals suspended in the runoff.
I turn around at the bridge and begin to make my way back toward my car at the lodge. Even though most of Glacier National Park is inaccessible until late spring, the point of visiting in February is not to tick off a list of sights. Winter is an invitation to explore at an unhurried pace, an excuse to slow down and notice the stillness that only this season can bring.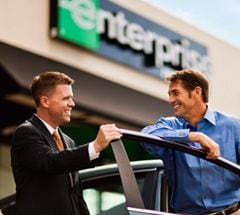 Start A Reservation
Enjoy fast and easy car rental bookings from Enterprise Rent-A-Car at one of our 7,200 branches in cities, airports and neighborhoods near you.
Reserve Now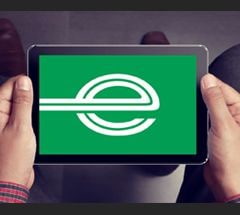 Email Offers
Don't miss an excuse to hit the road: our latest offers delivered to your inbox.
Sign Up