Sedona Provides a Romantic Setting for a Weekend Getaway
Above photo: "I didn't realize that rain would give us the most beautiful, dramatic vistas of our whole visit," author Leigh Kunkel said.
Story and photos by Leigh Kunkel
Leigh is a freelance writer from Chicago.

With its towering red rocks, the Arizona desert city has an unforgettable natural beauty.
When you visit Sedona, you never plan for rain. Why would you? The desert city in central Arizona typically has fewer than 60 days of precipitation per year, and it never occurs to you that one of them will happen on your first night of vacation. For my boyfriend, Kyle, and me, that assumption turned out to be wrong.
We'd made the two-hour drive in our rental car from Phoenix earlier that day, marveling as the prickly, imposing fields of saguaro cacti evolved into reddish-brown rocks with the climbing elevation. Paleoamericans first inhabited the area around 10,000 B.C., and it has been home to several Native American tribes, including the Apache and the Yavapai, whose influence is still evident in much of the artwork that fills Sedona's galleries. In the 1950s, the city began to attract tourists, and as we made our way through the sandstone hills, I could see what drew them.
Our trip to Sedona gave us a chance to relax and reconnect after a long year. I had recently finished graduate school, and Kyle's job involves lots of time on the road, so it had been quite some time since we'd had the opportunity to travel alone — no dogs, family members or friends involved. We were looking forward to hiking in Sedona, exploring a new part of the country and spending a few days together with no other obligations.
Red Rocks and Reflection
Sedona sits in a canyon surrounded by magnificent red sandstone bluffs. Ever since hiking the Grand Canyon three years ago, Kyle and I had been hoping to come back to Arizona and take in the incredible natural beauty that had made such an impression on us on our first trip. The red rocks, as they're often called, provide endless miles of hiking in Sedona and countless breathtaking vistas for people to enjoy.
The area is also home to several "vortexes," places in the rocks that are believed to have a greater concentration of spiritual energy. Many people who spend time at the vortexes find them to be calming and even say the visits improve their health. Tourists looking for a spiritual day trip can even take a Sedona vortex tour.
Sedona draws people of many different faiths, especially to the famous Chapel of the Holy Cross, a soaring church set directly into a rock face. Less well known, but equally beautiful, is the Amitabha Stupa and Peace Park, a Buddhist shrine. The shrine sits near Chimney Rock, which is a dramatic rock formation just west of the city. With its fluttering prayer flags and peaceful atmosphere, the park is an ideal place for contemplation and reflection.
A Storm Rolls Through
Since we had a reservation at a romantic restaurant for our first night away, I decided to pamper myself with a pedicure that incorporated Sedona's spirituality. At Lovejoy's Enchanted Cottage, owner Deb Lovejoy infuses your foot bath with energized crystals, performs a psychic reading and even uses tuning forks to help get your feet and your aura in tip-top shape.
On the drive back to pick up Kyle, though, I noticed dark clouds gathering ominously behind the hills, and just as I pulled up, the first raindrops splattered across the windshield. We were nervous because our reservation was at Cress on Oak Creek, a charming restaurant set alongside a quiet brook at L'Auberge de Sedona — not the ideal place to eat when it's chilly and damp. But we were looking forward to a delicious meal in a beautiful setting, so we set out a bit early, hoping the rain would stop by the time we arrived.
As we drove into the heart of Sedona, surrounded by the towering rocks, the sun started to break through the clouds and illuminated the hills against the stormy backdrop. We knew we had to stop to get a better view.
A Rainbow to Remember
A quick search on our phones led us to the Airport Mesa Vortex, the only place in the area where you can get an unobstructed 360-degree view of your surroundings. It was a short hike to the top, which was fortunate as I was in my nice shoes in anticipation of our dinner. But what we found when we arrived more than made up for the inconvenience.
All of Sedona spread out before us, glowing from the sunlight that poured through a crack in the storm clouds. Cathedral Rock, the Mogollon Rim and Cockscomb Rock were all visible from our vantage point. Suddenly, Kyle pointed over my shoulder. Two complete rainbows arced over the mesa, their endpoints disappearing into the forests below. We never would have gotten the view on a sunny day.
The wind whipped through my hair, destroying the bun I'd so carefully pinned earlier, but as Kyle and I stood there, hand in hand, I didn't mind a bit. When we arrived at Cress on Oak Creek, it was too cold to sit by the water, so instead we ate dinner tucked away in the warm dining room, marveling over the incredible experience we'd just had. Maybe rain on our Arizona vacation wasn't such a bad thing after all.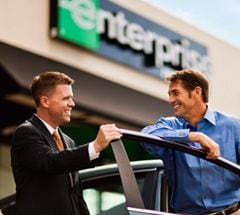 Start A Reservation
Enjoy fast and easy car rental bookings from Enterprise Rent-A-Car at one of our 7,200 branches in cities, airports and neighborhoods near you.
Reserve Now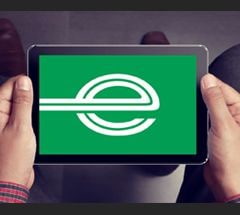 Email Offers
Don't miss an excuse to hit the road: our latest offers delivered to your inbox.
Sign Up