Photographing in the American Southwest
Story and photos by Michael Ciaglo
Michael is a freelance photographer based in Denver, Colorado. See more of his work on his website.


How to best capture desert landscapes on camera.
When I learned that a brilliant rainbow was posing above the rock formations over Lake Powell, I grabbed my camera bag and ran out of the house that my girlfriend's family had rented in Page, Arizona, for our vacation. I drove to a nearby lookout and snapped away as the rainbow faded and the clouds over Grandview Overlook changed from yellow to orange to deep shades of purple.
Then, 30 minutes later, I returned to the house with some rare images I'd never expected to capture — and ready with an apology, too, because I'd missed the beginning of dinner. As a professional photographer for 10 years, I am well aware that no matter how much planning or preparation I do, sometimes everything comes down to capitalizing on a bit of luck.
The desert in the American Southwest is a stunning, yet finicky, landscape to photograph. Harsh sun, flat light and extreme weather make the arid wilderness a formidable subject, though a rewarding one. On this family road trip to Arizona, I'd set out to capture the magic of the desert and the nearby canyons. Here are a few tips to help you do the same.

Timing Is Everything
First, let's talk about timing as it relates to natural light. One morning, I was awake at 5:30 a.m., way too early for a vacation day. I can't blame crying babies or jet lag — this was my choice. I shut off my alarm, grabbed my camera and drove off in my rental car under the cool indigo sky in search of sunrise.

For photographers, the golden hour is just after the sun rises or before the sun sets. When the sun is lower in the sky, the deep orange hue of the light complements the red desert and produces vibrantly saturated photographs. The lower angle of the sun also creates long shadows that accentuate the rugged features of the landscape.
Driving south on US-89 in the dark, I made the 10-minute trip to Horseshoe Bend, a 1,000-foot-deep canyon carved by the Colorado River in the Glen Canyon National Recreation Area. I pulled into the parking lot at 5:50 a.m. and jogged the 0.75 miles to the rim of the sandstone cliffs. As the sun rose, the light flowed over the landscape, and I started photographing as the deep canyon was illuminated in a dynamic dance of light and shadow.

Another spot where timing and lighting dramatically change the nature of photos is Antelope Canyon, a slot canyon just 6.5 miles east of Horseshoe Bend. Functioning like a reverse sundial, the narrow canyon walls allow only a sliver of light to penetrate the dark chasm throughout the day. But as the sun moves higher into the sky, the light reaches farther into the canyon's depths.
You can choose which look you want for your photos, and book a tour at a time that will achieve that effect. (You'll need a sunny day, too.) Our tour was scheduled for 8 a.m., when the sun was just beginning to hit the top of the canyon walls, providing enough light for soft, even photos with few harsh highlights. To capture stark light beams piercing through the middle of the canyon, a tour at 2 p.m. would be ideal, according to our guide.


Scaling Up — and Down
Scale is another consideration when shooting photos. The vast openness of the desert is part of its allure, but a lack of trees and other recognizable features makes it tough to determine the breadth of the landscape without any reference. Sarah, my girlfriend, is always willing to provide that perspective in my photos. On a hike to the Hanging Gardens in the Glen Canyon National Recreation Area, I scrambled up a rocky hill to take Sarah's photo as she walked below, to give a sense of scale.
As rewarding as capturing the expansive desert can be, I also like to take a moment to stop and smell the cacti. (I'm speaking figuratively, not literally.) A macro lens can bring the desert to life with intimate photos of cactus spikes, miniature flowers and peculiar structures hidden in sandstone surfaces. What the landscape lacks in large flora can be found in the details of what does flourish there.
In some locations, it's effective to add color to make a subject pop in an otherwise monochromatic vista. If you're heading to a red desert, you may want to ask the person providing perspective to wear a blue jacket. If grays, browns or greens are the dominant colors, consider bringing along a red article of clothing. During a guided boat trip on the Colorado River, a green kayak came into view that provided terrific contrast to the red walls in some of my photos.

You Win Even When You Lose
As much as I love getting the shot, just as often things don't go my way. I know that planning ahead, plotting different perspectives and packing colorful props isn't always enough. Still, some of the photos I treasure most have been taken in beautiful places in the company of people I love.
So even if the sunrise is a bust, a rainstorm spoils the day or thick fog obscures what had promised to be a gorgeous sunset, I always celebrate the time I spend in nature's spectacular landscapes, making as many memories as photographs.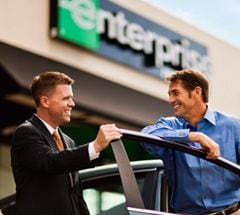 Start A Reservation
Enjoy fast and easy car rental bookings from Enterprise Rent-A-Car at one of our 7,200 branches in cities, airports and neighborhoods near you.
Reserve Now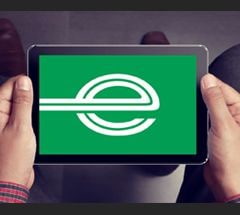 Email Offers
Don't miss an excuse to hit the road: our latest offers delivered to your inbox.
Sign Up