Driving California's Majestic Mountain Loop
Story and photos by Megan Snedden

Megan is a California-based writer and photographer. Follow her on Instagram or on her travel blog.

Two Californians explore three national parks in their home state. 
I'm snapping photos of El Capitan and Half Dome from the Tunnel View pullout on Highway 41. I'm also marveling at purple lupines sprouting along the Merced River, and I'm listening to the rush of water at Bridalveil Fall as it cascades down granite — all in California, my home state.
If you haven't guessed, I'm at Yosemite National Park in the Sierra Nevada: a highlight of a 500-mile-plus road trip called the Majestic Mountain Loop that encompasses Yosemite, Kings Canyon and Sequoia national parks. Along with my friend Deb, I began the trip with an overnight stay at Sierra Sky Ranch in Oakhurst, which is just 10 miles from Yosemite's south entrance. After relaxing on a slow morning, we made our way into Yosemite Valley, and suddenly, without our noticing, several hours have passed.
Deb and I met in 2017 when both of us were volunteering at an orphanage in Mexico. Our friendship has grown through the years, most likely because we both lose track of time when we're having fun. I run a random-acts-of-kindness movement based in Los Angeles and Deb is the founder of a nonprofit organization there. In June, we set out together to explore some of California's natural beauty. 
Yosemite's Many Gifts
We quickly drop off our bags at Yosemite Valley Lodge and skip dinner so we can make the hourlong drive along Glacier Point Road. Our goal is to hike to Taft Point in time for sunset. We clap and sing to scare away any bears in the area as we walk the 1.2 miles out to the scenic viewpoint. There, as we emerge through a tree clearing and see the golden light pouring across Yosemite Valley, we fall silent, awed by the breathtaking view.
The next morning, I head out for a meditative walk alone as the sun rises. Not far from the lodge, I see a vibrant rainbow appear across the base of Lower Yosemite Falls and then watch as it disappears when the sun shifts directions.
After breakfast, on the drive back to Oakhurst along Wawona Road, Deb and I tour the Pioneer Yosemite History Museum in Wawona. We continue our history lesson 10 miles down the road at the Yosemite Mountain Sugar Pine Railroad. As the antique steam-powered train carries us on a scenic ride through the Sierra National Forest, the conductor tells us it once transported lumber to Tuolumne after a logging camp was constructed there in 1928.
After the train ride, we stop for lunch at Idle Hour Winery and Kitchen in Oakhurst, where we enjoy the Crispy Artichoke Salad and the Turkey and Pig Panini. Next, we pop in at Yosemite Axe Throwing to nail a few bulls' eyes, a first for us both. Deb laughs at my poor hand-eye coordination even as a local ax thrower tries to help me. We wrap up the day kayaking on Bass Lake at Miller's Landing Resort and Marina, soaking up the serenity that nature offers.
The next day, on a purposeful detour, we head 24 miles along State Routes 274 and 225 to the geographic center of California, which lies just outside North Fork. We capture a few photos next to the marker, just for the bragging rights, and then move on, as there isn't much else to do there.
Giants in Sequoia Groves
Back in Oakhurst, we head south on Highway 41 and then east to Highway 180 on the 100-mile drive to Kings Canyon National Park. The General Grant Tree there, said to be the second largest tree in the world, stands 267 feet tall and measures nearly 29 feet wide at the base. Deb attempts to photograph an entire Sequoia in one frame but soon gives up and just enjoys the moment.
Back at the car, we follow the Kings Canyon Scenic Byway (Highway 180), which weaves along narrow, craggy cliffs as it descends into the canyon basin, which is more than a mile deep. Once we reach the bottom, we stretch our legs at Roaring River Falls. At Road's End, we take a sunset stroll along the Zumwalt Meadow Trail before stopping for dinner along Kings River.
After driving 90 miles from Kings Canyon along Highways 180 and 63, it's almost midnight when we arrive in Visalia, the gateway to both Sequoia and Kings Canyon national parks. We promise ourselves we'll fuel up on lattes at Component Coffee Lab the next morning before heading to Sequoia, which lies 35 miles to the northeast.
Just beyond the park's entrance, the Generals Highway follows winding switchbacks most of the way to the Giant Forest, a grove of sequoias. We hike beneath the monstrous trees to reach General Sherman, said to be the largest living tree on the planet. Approximately 2,200 years old, the 275-foot-tall tree is named after General William Tecumseh Sherman, who served in the Civil War. It's easy to feel small in the presence of something so grand.
Before leaving Sequoia National Park, we hike 3 miles up to Tokopah Falls, which drops 1,200 feet into the Tokopah Valley. Then, returning to Visalia, we enjoy dinner and the view of the sunset from the rooftop at Elderwood Restaurant and Lounge at the Darling Hotel. After the meal, we reflect on our journey along the Majestic Mountain Loop. In a single road trip, we've hiked among the world's biggest trees, explored one of the deepest canyons in North America and marveled at expansive vistas punctuated with mighty granite monoliths.
Each of these experiences, shared with a good friend, makes this adventure truly majestic.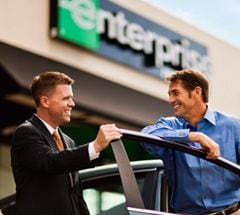 Start A Reservation
Enjoy fast and easy car rental bookings from Enterprise Rent-A-Car at one of our 7,200 branches in cities, airports and neighborhoods near you.
Reserve Now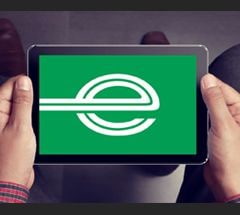 Email Offers
Don't miss an excuse to hit the road: our latest offers delivered to your inbox.
Sign Up