Road Trip to Death Valley National Park
Story and photos by Megan Snedden

Megan is a California-based writer and photographer. Follow her on Instagram or on her travel blog.

Beginning in Las Vegas, the 'Death Valley Rally' includes beautiful vistas and unique stops.
What do an annual motorcycle adventure, a noise pop band based in Norfolk, Virginia, and a video game featuring Looney Tunes characters have in common? Each of them goes by "Death Valley Rally." The state of Nevada has also assigned the moniker to a drive from Las Vegas to Death Valley National Park, home to the Mojave Desert — the hottest, driest, and lowest place in North America.

How hot? On July 9, 2021, Death Valley National Park's Furnace Creek Visitor Center reached 130 degrees, just 4 degrees lower than the desert's previous world record, set in 1913. How dry? The Mojave gets an average of 1.5 inches of rain a year, less than half the amount recorded in the arid Sahara. How low? The park's Badwater Basin Salt Flats sit 282 feet below sea level.
Mountain ranges are part of the 370-mile Death Valley Rally, and the scenic drive also leads to former mining communities that some say are haunted. My friend Deb and I share a mutual passion for road trips, ghost stories and all things odd, so we made this trip together. We set out on the four-day adventure from Las Vegas. Eager to escape the hustle and bustle of Sin City, we drove 45 miles southwest on Interstate 15 to Sandy Valley Ranch near the community of the same name in California's San Bernardino County.
On the ranch, accommodations range from tepees to covered wagons to tiny houses that have been featured on the HGTV show "Tiny House, Big Living." No stranger to the limelight, ranch owner Marilyn Kelch Gubler told us her family started the first radio station in Las Vegas. Ranch host Sandi Croft — a former Cirque du Soleil performer and backup dancer for Celine Dion — helped us get settled in our tepee.
Ballet in the Desert?
The next morning, Deb and I took a horseback trail ride led by a whip-cracking cowboy named Bones, and then we were back on the road. Navigating to Interstate 15 North and then over to Nevada State Route 160, we passed the Red Rock Canyon National Conservation Area, popular for rock climbing and other outdoor activities. We spied dozens of Joshua trees (a species on this planet for 2.5 million years) and we also enjoyed views of the snow-capped Spring Mountains. After a quick stop at Pahrump, once a base camp for gold seekers, we pushed on to Death Valley Junction, where we toured the legendary Amargosa Opera House.
As the story goes, when Broadway actress and ballet dancer Marta Becket's car broke down in Death Valley Junction in 1960, she decided to stay. In an old community center, she built a stage, painted murals on the walls and reopened the building as an opera house, where she performed a one-woman show for several decades. I easily could imagine this building — so artistic, yet so remote — in a metropolitan city like San Francisco. Though Becket died in 2012, learning about her story gave me hope for the future. You never know which of your craziest ideas is going to be a success.
Later, Deb and I talked about whether we could see ourselves dancing ballet in the middle of the desert. We couldn't. As dusk approached, we drove 25 miles on California State Route 190 and entered Death Valley National Park, the largest national park in the contiguous U.S. We arrived just in time to watch the sunset at Zabriskie Point, which looks out on multicolored hills, badlands and the Panamint Range.
After dark, we drove 30 miles to the Stovepipe Wells Village Hotel, which has an Old West theme. One of few lodging options inside the park, the hotel is just four minutes from the Mesquite Flat Sand Dunes, where the highest dune rises 100 feet. Before dawn the next morning, we hit the dunes for a hike. I always love early mornings in national parks, when almost no one else is around. As the heat from the rising sun slowly began to warm us, we took off our shoes to wiggle our toes in the freezing sand.
From Salt Flats to a Ghost Town
Back at the hotel, we enjoyed pancakes at the Toll Road Restaurant. Then we drove 40 miles east on 190 to Badwater Basin Salt Flats, a far-reaching and reflective white expanse composed mostly of sodium chloride (table salt) and a combination of calcite, gypsum and borax. Laughing with other visitors, we captured photos at "our lowest point in life" — a droll reference to the park's low elevation.
After experiencing an extraordinarily low area, we moved on to a remarkably empty place along the Death Valley Rally. An abandoned mining town named Rhyolite lies 47 miles north in Nevada, just outside the eastern boundary of Death Valley National Park. In 1905, when prospectors discovered gold ore there, Rhyolite sprung up almost overnight. Two years later, the mining camp had electricity, multiple train lines and some 50 saloons. By 1914, the gold ore was depleted, the electricity had been shut off and almost the entire population had left. Today, Rhyolite Ghost Town is an eerie spectacle, where only the skeletons of former structures remain standing.
We continued on Nevada State Route 374 north to Beatty, a town of about 800. When we popped into the Sourdough Saloon, we out-of-towners felt as though we had crashed someone's family reunion, so we moseyed over to Smokin' J's Barbecue for the best brisket and ribs either of us have ever had.
The next morning, we took U.S. Route 95 North and U.S. Route 6 East to connect with Nevada State Route 375, also known as the Extraterrestrial Highway. The two-hour drive was a short trip, Deb and I figured, for a chance to potentially observe paranormal activity — as though Death Valley hadn't been otherworldly enough.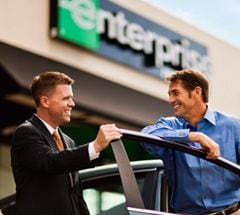 Start A Reservation
Enjoy fast and easy car rental bookings from Enterprise Rent-A-Car at one of our 7,200 branches in cities, airports and neighborhoods near you.
Reserve Now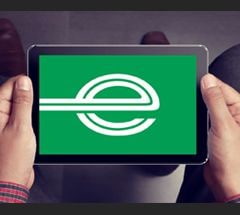 Email Offers
Don't miss an excuse to hit the road: our latest offers delivered to your inbox.
Sign Up