Old Friends Drive the Sea to Sky Highway
A workaholic who dreads weekends and a wanderer constantly in motion explore Canada's Sea to Sky Highway.
British Columbia's Sea to Sky Highway — home to towering temperate rainforests, snowcapped peaks and crashing waterfalls — begins in Vancouver and stretches 101 miles north to Pemberton, although most travelers end their journey in Whistler, which served as host to the 2010 Winter Olympics. This storied journey along Highway 99 is known as one of Canada's great scenic drives, and for years I've wanted to drive it.
I've invited along Eamon, a childhood friend from Quadra Island, a half-day's trip to Vancouver. We grew up on the island, spending summer days raiding his mother's vegetable garden and winter nights watching old VHS tapes by the fireplace.
Eamon, a born entrepreneur who started a lawn care business at age 12, now has a full-time job, is renovating his house and volunteers with the fire department. In contrast, I've been sharing stories from life on the road for the past six years. This is the first time I've succeeded in convincing him to take time off to join me on a trip, and I'm looking forward to catching up.
Hitting the Road from Vancouver
Right after I pick up Eamon from Vancouver's Horseshoe Bay ferry terminal, we head 2 miles west to Whytecliff Point, a popular lookout with panoramic views of Howe Sound and Bowen Island. A line of rocks about to be hidden by the incoming tide offers a precarious path to Whyte Islet, a small island just off the coast. Rather than start the trip with wet socks and cold feet, Eamon and I return to the rental car and drive 27 miles north on the Sea to Sky Highway to the Stawamus Chief Mountain, a granite dome with an elevation of 2,303 feet.
I've researched the Stawamus hike, so I understand that it's steep — but I've underestimated how steep. Resting some 2,001 feet above the road with aching legs and more than a few regrets, I ask Eamon his thoughts about taking a trip abroad. While I don't expect him to pack up and go gallivanting around the world any more than he expects me to settle down in one place, few young people stay on the island after high school. "I enjoy my work, so I'm OK in one spot," Eamon says. Looking over at me, he adds, "But I understand wanting to move around and see and experience new things."
Once our legs recover, we hike back down to the car. In the rapidly fading light, we drive the remaining 38 miles North to Whistler Village. I had originally hoped to take the Sea to Sky Gondola to visit the Sky Pilot Suspension Bridge, but a cut cable earlier in the season has temporarily closed the attraction. Instead, we stop to admire the 230-foot Brandywine Falls, mere minutes from the highway and situated just past Garibaldi Provincial Park, a favorite with locals and visitors.
Relaxing in Whistler
November is Whistler's shoulder season; mountain biking trails have closed and the ski lifts have yet to open. Pangea Pod Hotel — a cross between a hotel and a hostel — is quiet when we check in. Our room houses a dozen surprisingly spacious sleeping pods, similar to those found in Japan's capsule hotels. Each has a small locker, power outlets, and a fan that circulates air and drowns out snorers and late-night arrivals.
Downstairs in the funkily lit living room, we quiet our rumbling stomachs with coffee and pizza. Then we take a short walk to see the Olympic Plaza, where the Olympic rings light up sporadically behind the skating rink. When rain begins to fall, we retire to our pods.
The next morning, Eamon and I drive to the Scandinave Spa at the north end of Whistler Village. Surrounded by mountains and evergreen forest, we spend two blissful hours switching between saunas — eucalyptus-scented steam rooms so thick we temporarily lose one another — and ice baths, with considerably less time spent in the latter.
Spending Time in Nature
We consider visiting Elfin Lakes, a destination popular for hiking and snowshoeing just east of Squamish, but learn that the road to the trailhead may be snowed in. Instead, we drive 38 miles north along Highway 99 to camp at Joffre Lakes Provincial Park, where the trailhead is right off the road. In summer months, the three blue and green lakes draw large crowds, but on this particular day, little of the water can be seen beyond the edge, where rocks have tumbled down onto the ice.
We pitch our tents, eat an early dinner and stash our food in a bear box designed to keep the animals away from the camp. Then, we fall asleep listening to space-battle-like sounds emanating from the lake's cracking ice.
In the morning, we discover that the surrounding mountains have emerged from behind the clouds. After retrieving food and coffee from the bear box, we slide around on the frozen lake for a while before shaking ice from our tents and breaking camp. Halfway down the 3-mile trail, Eamon veers to pick up the abandoned sole of a shoe. "How does that even happen?" he questions, waving it as though conducting an invisible orchestra.
"Well," I say, "some poor unfortunate soul…" Eamon groans at the dad joke.
We set out on Highway 99 again, this time driving south. In Whistler Village — a pedestrian-only area featuring stores of every outdoors brand I've ever heard of — we stop at the Mount Currie Coffee Company. The sign outside boasts it serves the best coffee in Whistler, and I wouldn't disagree. Sitting in the sun with our beverages, we watch as small birds flit around, stopping only to see if we will offer any food.
Looking to the Future
Leaving Whistler Village, we pass a tractor. Eamon nods and notes, "Good man. Working on a Sunday." He adds, "If I'm on a day off and I see someone else working, I envy them more than me." The idea of a seven-day workweek bewilders me, and I shake my head in wonderment.
We stop to tour Whistler Brewing Company, an originator of the British Columbia craft brewing movement, and then continue on to Tantalus Lookout, a roadside viewpoint offering a clear view of the Tantalus Range. Once back at the rental car office in Vancouver, Eamon grunts as he hefts his backpack on. When he was stocking up on beer, he'd clearly forgotten we were taking a bus to the ferry.
It's dark when we leave Vancouver, cross the Strait of Georgia on the ferry and reach Vancouver Island. Riding in Eamon's truck, my philosophical side emerges. I ask, "If you could know how long you'll live, would you want to?" The sun has set so I can't see Eamon's reaction, but his answer is immediate: "No! If your life is all planned out, what's the point? That's the magic of traveling. It's the unknown. If you'd been to a place or knew what it was like, would you go?" His question hangs in the air, and Eamon turns up the radio to fill the quiet.
It's a comfortable silence. My thoughts drift to future adventures, but I know Eamon is looking forward to returning to work. While we may never live in the same place again, I've no doubt that he and I will still go on adventures together when we're 80. By then, maybe Eamon will even be retired.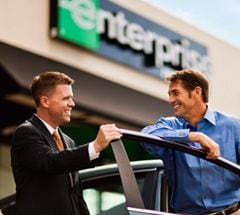 Start A Reservation
Enjoy fast and easy car rental bookings from Enterprise Rent-A-Car at one of our 7,200 branches in cities, airports and neighborhoods near you.
Reserve Now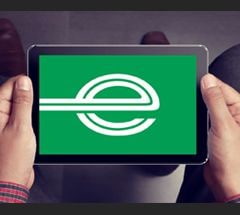 Email Offers
Don't miss an excuse to hit the road: our latest offers delivered to your inbox.
Sign Up