A Solo Traveler Drives the Icefields Parkway in Alberta, Canada
Taking three days to complete this three-hour drive isn't uncommon; there's a lot to see.
I love road trips. When I first Googled the Icefields Parkway, I couldn't imagine anyone wouldn't want to drive the 140-mile stretch of road between Jasper and Banff in the Canadian Rockies — an area famous for glaciers, waterfalls and lakes so blue they look Photoshopped. But no one I know could get the time off work, and so I find myself driving west from Edmonton, Alberta, on Highway 16, singing out of tune to a crackling radio.
I stop to pick up maps and a park pass at Jasper's information center. "How many in your party?" asks the woman behind the desk. The question throws me, until I realize a tour bus is offloading right behind me. "Just me," I say, "it's not much of a party." She smiles and says, "I also like hiking alone; it's so empowering." When I've stumbled through the darkness with a dying headlamp, hoping not to run into a brown bear, "empowering" was not the term that came to mind. I decide it's better that I don't say this out loud.
I spend the afternoon photographing a handful of Jasper's alpine lakes. It's only the middle of August, but it looks as though autumn has already set in. At Annette Lake, red trees wrap the mountains in a warm glow, as though ablaze in the setting sun.
With a clear forecast for the following day, I set my alarm for 4:44 a.m to see the sun rise. As I drift off, it strikes me that the real reason no one was able to make the trip with me may have had more to do with sleep deprivation than with work.

Coping with Microclimates
The next morning, gray skies greet me; the weather forecaster has lied. With two hours until the first cafe opens, I hit the snooze button. Later at the cafe, a local hiker tells me there are 15 microclimates between Jasper and Banff, "so you have a 1 in 15 chance of the forecast being right." Those odds aren't great, but not wanting to waste my second day, I pull out a map and pen and circle waterfalls south of Jasper, none more than a 10-minute walk from the safety of a dry car.
Soon, my map is covered in circles. It's hard to choose which to stop at first, but I start at Athabasca Falls. Apparently, everyone else has made the same decision. It's only at the less "Instagrammable" viewpoints that the jostling elbows and selfie sticks disappear, leaving me free to admire the water crashing into a canyon of its own making at speeds that have swept more than one careless visitor to an unhappy end.

After a day dodging rain showers, I'm relieved to see blue skies as I arrive at the Discovery Centre for a sunset bus tour of the Columbia Icefield. "This is as fast as we go," our driver says as she inches the enormous ice explorer designed for glacier travel down a road steeper than any bus has a right to be on. Once we stop to walk on the glacier, I chat with her and learn that in 10 years, the surface we are standing on has dropped 12 stories due to rising tempertures.
While I contemplate an elevation loss almost equivalent to Rome's Colosseum, a large family from the island of Mauritius huddles together, posing with the Canadian flag. Having spent the better part of the past six years traveling solo, it's hard to imagine what traveling with a dozen family members would be like. Recalling the time my 15-year-old cousin got lost in Rome and a police officer congratulated her for losing her family, I decide that chaos, and a missing-person report, are the most likely outcomes.

Looking for Lakes
After the tour wraps, I stop at the nearby Wilcox Creek Campground for an inadequate amount of sleep. At 4 a.m., I shuffle up Parker Ridge's 1.5-mile trail to photograph the sunrise, yawning all the way. It's a popular trail, but most people do not go hiking at 4 in the morning. I'm prepared for bears but am not expecting to round a corner and nearly trip over a couple carrying cameras. The young woman's face mirrors my own — a look of terror worn by someone still half asleep. Laughing in relief, we put away our respective cans of bear spray. As their footsteps disappear down the trail, I'm struck by a whisper of loneliness.
After sunrise, I set off to photograph as many lakes as possible. Despite the early hour when I arrive, Peyto Lake's parking lot is nearly full. As the sun rises, the vibrancy of the glacier-fed lake increases — as does the number of visitors. Ducking out of the crowd, I drive a half-hour south to the town of Lake Louise, in Banff National Park. After a stop at the Trailhead Café for a much-needed coffee, and — with no one there to judge me — a few more pastries than necessary, I drive just over 8 miles to Moraine Lake.
I take a couple of photos, then almost drop my camera as an obese chipmunk runs over my leg. It's a sad reminder of what can happen to wildlife in popular places. Or to me, if I continue consuming pastries unchecked.

I munch on a muffin as I drive the last 35-mile stretch of the parkway to the resort town of Banff. Passing under a wildlife crossing, I smile. A minute later, the smile evaporates as a rain cloud settles over the valley. The skies are dark, but with fingers crossed for a sunset that seems increasingly unlikely, I park and join a line for the Banff gondola. On the way up, I send my boyfriend a "Wish you were here" text — the silent cry of a lonely traveler.
The gondola traverses the mile-long track in about eight minutes, delivering us to the top of Sulphur Mountain, with an elevation of 8,041 feet. There, with a backdrop of six mountain ranges, a double rainbow graces the sky above the town. Around me, people laugh and snap selfies.
A lone traveler smiles shyly, proffering a camera, and asks if I'd mind. Just like that, the lonely feeling that has sat with me since my hike up Parker Ridge dissipates. I've spent three days running from crowded places, forgetting that what I love most about traveling alone isn't the spontaneity or flexibility — it's conversations with people I never would have spoken to had I been with friends or family.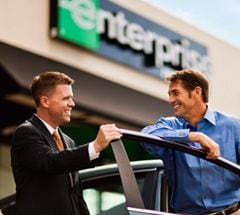 Start A Reservation
Enjoy fast and easy car rental bookings from Enterprise Rent-A-Car at one of our 7,200 branches in cities, airports and neighborhoods near you.
Reserve Now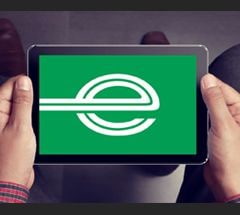 Email Offers
Don't miss an excuse to hit the road: our latest offers delivered to your inbox.
Sign Up