Waterfalls Inspire Memorable Road Trips
Story by Patricia Corrigan

Patricia is a journalist, photographer and book author based in San Francisco.

North America features an abundance of roaring falls.
A long time ago, artist and engineer Leonardo da Vinci wrote, "Water is the driving force of all nature" — and today, people drive all over to see and hear great rivers of water falling from cliff tops and small streams tumbling down sloping banks.

Throughout history, travelers have relished the experience of standing before waterfalls large and small. Is it the simple pleasure of watching water patiently sculpt rock? The reported mood enhancement from the negative ions? Or just the joy of being in nature?
Find your answer by planning a road trip to see waterfalls. The following are some of our favorites.
Niagara Falls in New York
All your senses are engaged when you stand staring in awe at Niagara Falls, where 757,500 gallons of water spill over the three falls every second. That's enough to fill almost 19,000 bathtubs, which makes the world-famous falls the most voluminous in North America.
Every year, about 30 million people enjoy Niagara Falls from a variety of perspectives — including on boat rides — from the American and Canadian sides. One writer describes the destination as "terrific, tacky, fascinating and fun."
And in case you were wondering, you don't have to be on your honeymoon to visit!
Montmorency Falls near Quebec City
Just 9 miles outside Canada's Quebec City, Montmorency Falls in Montmorency Falls Park gives Niagara Falls a bit of competition — it's 99 feet higher, though nowhere near as wide.
To fully appreciate the waterfall, ride the cable car to the top, walk across the suspension bridge that spans the falls and then descend the 487-step staircase down the opposite side of the cliff. Take your time to enjoy the several scenic viewpoints along the way. Montmorency Falls Park is open year-round. In winter, mist freezes and accumulates at the foot of the waterfall. The result is a huge pile of ice known as the "sugar loaf."
Sol Duc Falls in Washington
A multitiered waterfall in Olympic National Park, Sol Duc Falls drops off the side of a cliff into a narrow canyon 50 feet below. Photos of this waterfall sparked one man's passion for landscape photography, and he reports on a drive to the park to see it in person.
He wasn't disappointed. His road trip from Seattle included a visit to see Marymere Falls, and on the way back to the city, he stopped at Rocky Brook Falls (reached by an easy walk) and Murhut Falls, a 130-foot-tall waterfall that requires an uphill hike. "Dominating the forest around it, Murhut Falls was well worth the effort," he notes.
Ferne Clyffe Waterfall in Illinois
The Big Rocky Hollow Trail in Ferne Clyffe State Park leads you to this beautiful waterfall, which crashes 100 feet into a creek below. The park is one of several in the verdant Shawnee National Forest in southern Illinois, a 290,000-acre woodland that stretches between the Mississippi and Ohio rivers.
Like most waterfalls in the Midwest, Ferne Clyffe Waterfall and other smaller falls scattered throughout the park flow only after heavy rain. An uncrowded wilderness haven that appeals to hikers, kayakers, rock climbers, fishing enthusiasts, birdwatchers and anyone who appreciates the sound of rushing waterfalls, Shawnee National Forest is an easy weekend road trip for Midwesterners, as it's about a three-hour drive (or less) from St. Louis, Nashville and Louisville.
Yosemite Falls in Northern California
One of the tallest waterfalls in the continental U.S., Yosemite Falls in Yosemite National Park drops 2,425 feet from the top of the upper fall to the base of the lower fall in Yosemite Valley. It's easy to recognize because of the notch in the Sierra Nevada clifftop where it begins.
The park, about four hours from San Francisco, is home to at least another 25 waterfalls as well, in a wide range of sizes. Most years, the flow is fullest in May. Vernal, Nevada and Bridalveil waterfalls tend to flow year-round, but most of the others (including the biggest one) dry up in summer. As one ranger puts it, "In summer, we refer to Yosemite Falls as 'Yosemite Walls.'"
Photographers head for Yosemite in mid- to late February, hoping to see Horsetail Fall glow orange during sunset. If you visit late in winter, watch for slushy frazil ice, which forms when mist from the waterfalls freezes and rushes down creeks in the early morning hours. And if you see a mound of snow and ice hundreds of feet tall at the base of Upper Yosemite Falls, that's known as a snow cone.
Waterfalls Galore in Tennessee
Burgess Falls, Window Cliff Falls, Cummins Falls and Rainbow Falls make any road trip through Tennessee especially worthwhile for fans of waterfalls.
Over 130 feet tall, Burgess Falls extends out in the shape of a horseshoe and the water flows into the Falling Water River in Burgess Falls State Park near Sparta. Window Cliff Falls, which is wide and multitiered, is along a 2.5-mile hike in Window Cliffs State Natural Area near Cookeville. Cummins Falls, which is 75 feet tall, is along the Blackburn Fork State Scenic River in southern Jackson County. Rainbow Falls, which drops 80 feet, is in Great Smoky Mountains National Park near the Roaring Fork area close to Gatlinburg. Sometimes on sunny afternoons, the mist from the falls produces a rainbow.
If you extend your road trip along the winding "Tail of the Dragon" road from Tennessee into North Carolina, you can explore Yellow Creek Falls, tucked deep in the Nantahala National Forest 100 miles west of Ashville.
Fall Hollow Falls in Tennessee
A scenic highlight along the 444-mile Natchez Trace Parkway, Fall Hollow Falls is at Milepost 392 near Hohenwald, Tennessee, about 80 miles southwest of Nashville. The waterfall is just off the Parkway, which stretches from Natchez, Mississippi, to Nashville.
Drive another 13 miles north to Milepost 404.7, and you can head up a steep paved walkway for a great view of Jackson Falls, a double-decker waterfall that tumbles into the Duck River. The Baker Bluff Overlook is another half mile along the trail, and the view is worth the walk. Our travel writer notes that Jackson Falls "was thundering with sheets of water coming over two rock shelves. Children were playing on the boulders of the mossy grotto below. It's an awesome sight when the water is right."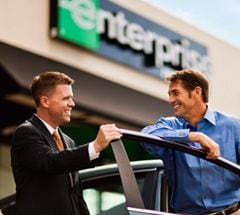 Start A Reservation
Enjoy fast and easy car rental bookings from Enterprise Rent-A-Car at one of our 7,200 branches in cities, airports and neighborhoods near you.
Reserve Now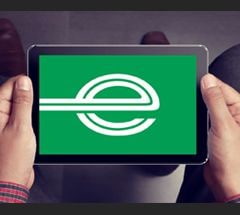 Email Offers
Don't miss an excuse to hit the road: our latest offers delivered to your inbox.
Sign Up