Above photo: Cub Scouts from The Colony, Texas, pose with friends at the launch pad. 
Story by Jesse Hirsch; photos by Neill Whitlock
Jesse lives in Brooklyn, where he writes about food, agriculture and travel. Neill lives in Dallas. See more of his work on his website.
Amateur rocketry is a fun diversion for some and an all-consuming passion for others.

On its face, rocketry is akin to alchemy: by combining basic parts into an intensely complex whole, we can shoot miles up into the sky, even cracking through our atmospheric boundaries. But though most of us bear some degree of fascination and awe toward this esoteric discipline, it takes a different breed to actually want to launch their own rocket.
These remarkable humans are not content to simply witness the marvel of rocket flight from the sidelines. No, they want to try their hand at the actual shaping of a vessel, pouring in vast reserves of time and energy to get it to launch. And when the rocket-makers are amateurs, without the resources and support of major government institutions, well, that's all the more impressive.
We caught up with some of this breed recently, at a Dallas Area Rocket Society (DARS) launch on a windy May morning. For some, it's a pastime and a fun diversion, while for others it is an all-consuming passion. Whatever the case, their passion for rocketry sets them apart.

Jack and Suzy Sprague, DARS president, and his wife, a DARS club official
Jack's Origins
Jack: "My dad was Air Force, so I was an Air Force brat, moving all around. I got started on rockets for a science project in Florida in, I think it was the 5th grade, and I kept at it wherever we moved. In New Mexico, I got all my friends into it; we'd go out in the middle of the desert, bunch of cow pastures, great places to fly. My buddy had an old electric vehicle painted olive drab, so we looked like Army. An Air Force helicopter actually investigated us once, just to see what we were up to."
A Family Affair
Suzy: "When I first joined DARS (in 1990), it was a bunch of guys, and I was the only girl. I started saying 'Hey, I'm taking Jack out for dinner after the meeting, maybe you can bring your wives and join us?' Next thing you know we had 500 members and were launching twice a month. Moms were there with playpens and itty bitty kids, sitting there, reading a book. Picnic lunches and all that."
Media Darlings
Suzy: "We were on 'Good Morning America' for a five-minute story, which is an eternity! We've also gone on other local morning shows. Then one of the hobby stores in Dallas had producers from 'Walker, Texas Ranger' came in looking for rocket stuff for a story they were working on. They ended up getting a lot of equipment and advice from us. Plus, Jack has been on 'Storage Wars!'"
The Uncertain Future
Jack: "There is nothing like fire and smoke to hook in the kids. Young kids, they'll come out to fly a rocket all day long. You marry that up as the kids get bigger, try to make sure they don't lose the excitement. Keep pushing them and pushing them. I firmly believe this race has to get off this planet if we're going to survive. It sounds kind of strange, but it's part of my philosophy."
Robert Gupton, McKinney High School engineering teacher/Rocket Club leader (pictured with his wife, Barbara)
Putting in the Hours
Robert: "Our rocket club meets every Tuesday from 2:30 to 5 o'clock, takes an hour break, then goes from 6 p.m. until 8 p.m. They launch at least every third Saturday. I try to make it to every launch, but if I don't, they drive themselves!"
Our 3-D Future
"I am heavily involved in the building of the rockets. My students start with 'Intro to Engineering Design'; in that class, they learn to 3-D model. A lot of rockets they build will have the nose cones modeled and 3-D printed. They model and print the engine mount. Then recently, we've gotten a laser cutter, so they design their fins, and we'll cut them out of balsa wood with the laser cutters. This is not a kit. Basically creating [the rockets] from scratch."
NASA Calling
"Each year there are 1,000 entries to TARC (Team America Rocketry Challenge). My team made it to the top 100, which means they got invited to Washington D.C. Then we were in the top 24, so we got an invite to build a rocket for NASA. The students ended up doing anything an engineer would do — preliminary design review, critical design review, go through the entire process. Four or five times over the year they would even have conference calls with NASA!"
Stephen Heilman, 50-year rocket enthusiast (pictured with his grandson)
Good Old Days
Stephen: "I've been launching rockets for 50 years, since I was 12 years old. Back then you could always find open land to fire on. Now you can't — there are way too many airports, so much development. Used to be we'd just get on our bicycles and just go a mile or two, and you could always find someplace to launch."
Close Calls
"One time we launched an SR-71, it went up like 10 feet, then went horizontal! (hearty laugh) What happened is, just as we launched it, there was a big gust of wind. This model looks a lot like a real SR-71, so there's a lot of fin air. That wind gust came in right at launch and the rocket went right over everyone's head. Most of the time it's very safe, but that was quite exciting!"
Advice to Future Rocketeers
"Get out from playing your Nintendo or XBox, and do something. It doesn't have to be sports; it can be these rocket clubs, or it could be fishing or camping. Just find what you like, and get outside and do it!"
Gary Fuller, relatively new rocket enthusiast (pictured with his grandsons)
A Little Help From New Friends
Gary: "I got into it because my grandkids are in Cub Scouts. They can get a badge or earn an award by doing rocketry. The first time we flew, my eldest grandson was 6, was a Tiger Scout. The Rocket Society in Dallas was so gracious to let us come out. They are so generous with their equipment, and they're the ones who have insurance for the liability. We just get to come out and use their stuff."
Losing Your Rocket
"The biggest thrill was the first rocket we launched. It worked the very first time up; the parachute came out, everything was perfect. Plus we found it! It was a totally white rocket, and you think you're gonna be able to see it. But then you get some cloud cover and a lot of time you lose your rocket. Sometimes we end up looking for a while!"
The Rocket Economy
"The motors go A, B, C, D, and every motor level you go up, it's double the power. Calculate that up to an F motor, and you've got a lot of power! We're only launching A's. We could do a B and it would go up higher, but the farther they go up, the farther they go away when it's windy. Plus we're all about economics in Cub Scouts; A motors are a lot less expensive."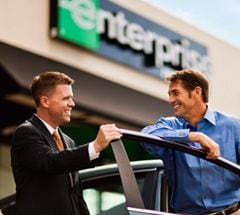 Start A Reservation
Enjoy fast and easy car rental bookings from Enterprise Rent-A-Car at one of our 7,200 branches in cities, airports and neighborhoods near you.
Reserve Now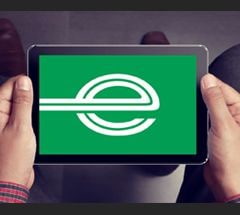 Email Offers
Don't miss an excuse to hit the road: our latest offers delivered to your inbox.
Sign Up